Downey Theft Crime Attorney
Defense Against Theft Charges in Downey
Throughout your theft crimes case, the Law Office of Ronald M. Hall will keep you well informed. As your Downey theft crime lawyer, our team prioritizes your understanding of not only your charges, but also of your options.
We show you the best defense tactics available to you and include you in the process of deciding how to protect your future. Trust your case to the capable skill of our Downey theft crime attorney. We have served clients for more than 35 years with aggressive, intelligent defense.
---
If you are facing charges for theft, contact us today to start discussing your case. Free consultations can be scheduled by calling (562) 268-5522.
---
Types of Theft Charges in California
Our Downey theft crime attorney works toward your goals. We become your partner in seeking the best possible results for your charges. Clients appreciate our easy accessibility and convenient office hours, with evening and weekend appointments that are meant to work around your schedule. When your future freedoms are at stake, ask our experienced team for help.
We provide legal counsel and representation for all theft crimes charges, including:
Grand theft
Petty theft
Shoplifting
Embezzlement
What Is the Difference Between Grand Theft & Petty Theft?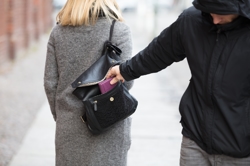 Major and minor theft crimes are separated by the value of the item stolen and by the manner in which it was stolen. Petty theft crimes include shoplifting of an item worth less than $950 and are generally charged as misdemeanors.
Grand theft items are generally worth more, with the exception of farm-related property, crop, and livestock. Teft of these items come with harsher penalities and are therefore often charged as felonies.
What is Considered Grand Theft in California?
In California, grand theft is the theft of any property that is valued at $950 or greater. Grand theft is a felony and can result in serious penalties such as prison time for the following terms depending on the circumstances surrounding the case:
Three years
Two years
16 months
We Show You How To Proceed When You Don't Know Where to Turn
With help from our Downey theft crime lawyer, you can expect a lawyer who can use his experience to predict how your case will be charged, and how it will progress. More than 35 years of experience has made Attorney Hall familiar with the local courts, which acts as an advantage for our clients.
Schedule Your Free Case Consultation
We handle cases in every Southern California Court
A complimentary consultation in person or over the phone
Payment plans available and credit cards accepted
Over 35 years of professional experience and knowledge
Evening and weekend appointments available
Se habla Español - our Downey theft crime lawyer can help you in English or Spanish
Arrested for theft? We offer free consultations for your convenience; don't hesitate to call our Downey theft crime lawyer at (562) 268-5522.